MOPHONO's HALFTONE SOCIETY – THE SINICISM EP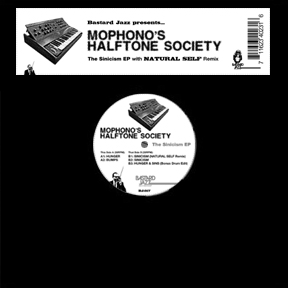 Title: Sinicism EP
Artist: Mophono's Halftone Society
Catalog number: BJ017
Released: April 2010
Media: Vinyl 12″ Digital
Tracklist:
Side A
1. Hunger
2. Bumps
Side B
1. Sinicism (Natural Self Remix)
2. Sinicism
3. Hunger & Sins (Bonus Drum Edit)
Main Information:
Brooklyn's longstanding record label Bastard Jazz Recordings is proud to bring you their next 12" from San Francisco based DJ, artist, and producer Mophono, aka DJ Centipede.
Mophono's resume is a long one – he's released a short string of incredibly successful 7"s on his own CB Records imprint, including the Gaslamp Killer's "My Troubled Mind" vinyl, and Mophono's "The Edge" 7" (which sat at the very top of Turntablelab's bestseller list for an astounding number of weeks) , and is the man behind the groundbreaking weekly "Change the Beat" party in San Francisco, an absolute institution for beat-heads, crate diggers, trainspotters, and degenerates of all types. Mophono has also performed live with Flying Lotus's Brainfeeder Festival and opened for Amon Tobin, DJ Food, DJ Krush, Dabrye, and De La Soul with his Skip on Beat records, drum machines and moogs
Now, working for Bastard Jazz under the guise of Mophono's Halftone Society, Benji has delivered an astounding EP that beautifully manages to toe the line between past & future, organic & electronic, dancefloor & heady. Things start off with "Hunger", a funk fueled stomper with a monster break, horn stabs, tinkling pianos and deep moog undertones. "Bumps" is a 103 BPM chugger that sounds like an unholy meeting between DJ Shadow, Fela Kuti and Pepper Adams – with a chopped, dusty drum break, and filthy Baritone sax lines weaving in and out. "Sinicism" furthur explores Mophono's penchant for chopping and splicing the breaks, with more larger than life Baritone sax, and an absolutley brilliant mid-song change-up to a hypnotic exploration of the "Post-Dilla" sound championed by artists like Hudson Mohawke, Ras G, Flying Lotus, Nosaj Thing, etc… – complete with flutes, sax, and a skittish, recessed break. Lastly, Tru Thoughts' recording artist Natural Self delivers a crushing dancefloor remix of "Sinicism" with an alternately droning and bubbling bassline, synth squiggles, big drums, tribal percussion and more chops & tricks than you can shake a stick at. Also included on the 12" is a bonus beats "drum edit" of both "Hunger" and "Sinicism".
"Slamming tracks that echo that good old boom bap of Pete Rock & Showbiz but with a new twist….Good stuff." – Andy Smith (Dynamo Productions, UK)
"Wow this shit is dumb hot — !!!" – MonkOne (Wax Poetics, NYCTrust)
Expertly composed and arranged beats by one of SF's up and coming talents. Although Mophono's DJ skills have been evident for years, his productions are earning him the same props now too. "Halftone Society" is a great representation of Mophono's soul knowledge and beat juggling bravado. This one is a party rocker for sure" –DJ Tomas (Umoja Hi-Fi, SF)
"Two heavyweight beatsmiths twist, break, chop and freak these pieces into some expectedly dirty, crunchy, moody
tunes. The drums nasty and the horns bold. Listen cautiously and keep your guard up!" – Jeremy Sole (KCRW, Afro Funké, Musaics)